Saleh Ahmed Khan, MBE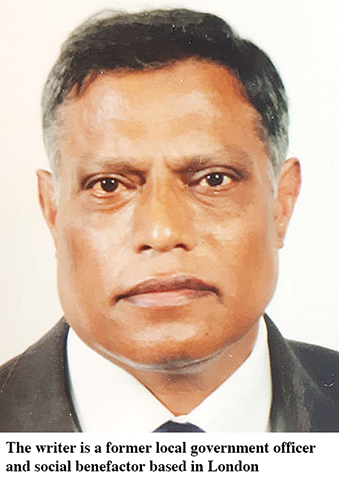 General Mohammad Ataul Ghani Osmany, the Commander-in-Chief of the Liberation Forces of Bangladesh, was a most distinguished and formidable military leader of his time in the Indian sub-continent. There have been many telling anecdotes about this legendary General. He was popularly regarded as a forthright, unusually honest and selfless soul, both as a soldier and politician. Yet, with his intimidating demeanour, those glaring eyes and that distinguishable moustache, he was often misinterpreted as a hard-nosed, arrogant, stubborn or hot-tempered leader. I feel myself obliged to share some of my wonderful experiences of meeting this great man to elucidate some insight into him, the person Osmany.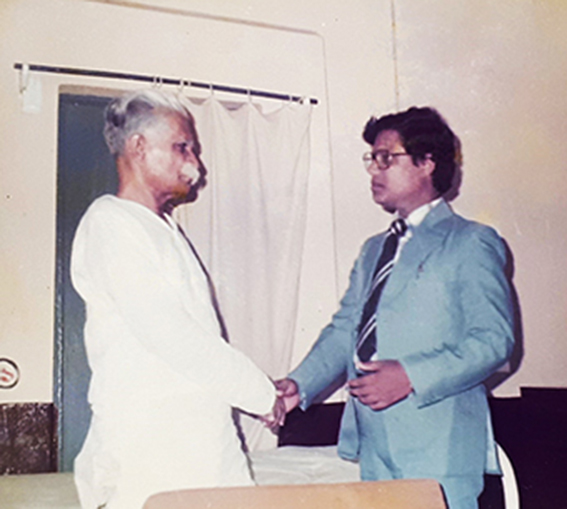 I first saw Osmany in the autumn of 1970 when I was a teenage boy attending secondary school in class IX. An election fever had then gripped the whole of Pakistan. The first ever elections of the national assembly by direct votes on the basis of universal adult franchise, since her independence in 1947, were to be held on 7th December 1970. All political parties had already launched their election manifestos and candidates began visiting voters and canvassing for support.
It was a late afternoon and I was on my usual exhausting five mile walk home from school, when I learnt that Colonel Osmany had come to our village of Fulshaind. Intrigued, I rushed towards the bustling Bazaar situated in the heart of the village. It appeared that two candidates from two different parties had come to the village that evening. One of the candidates was addressing a gathering on the upper ground level of the adjacent Model Primary school compound whilst the other was sitting inside his car waiting for his turn.
I went up there and joined the gathering which was proceeding in an informal open air setting. I found an exceptionally looking candidate with a smart soldierly bearing with glaring eyes and large moustache was talking to the villagers. He was Colonel Osmany, the Awami League candidate for a seat in the National Assembly of Pakistan for our constituency, which was the country's largest constituency comprising four Thanas (Upazila or sub-districts) of Sylhet district, namely Golapganj (our Thana), Fenchuganj, Bishwanath and Balaganj.
Osmany was explaining his party's manifesto which was based on the historic Six Point formula and humbly answering questions from the villagers. All the villagers were standing very close in front of him in a semi-circle, listening very attentively.
One young man in his early twenties wearing a red Sulemani cap (with a tassel attached to the top) began asking him questions non-stop. He got himself so excited that he began abruptly interrupting whilst Osmany was speaking. At this Osmany lost his temper and said, "You had better go on speaking and I would rather go." He then immediately left the meeting walking down to his jeep.
This was my first glimpse of Osmany for a short few minutes. The villagers were taken aback by Osmany's such a harsh decision to leave the meeting. But they fully understood Osmany's position. They realised that Osmany was not like other candidates, who had been coming to them begging for votes, but he was a daring and an exceptional character. They blamed the young man for asking too many stupid questions. Apparently, Osmany was ingrained in military discipline, which he maintained throughout the rest of his life.
In November 1981 shortly after the presidential election I visited Osmany at his residence (Nur Manjil) in Sylhet town. Osmany had been unsuccessful in contesting as a candidate from his newly formed Jatiyo Janata Party. I was then accompanying one of my villagers who was anxious to inform Osmany that he had secured majority votes from all polling centres under the jurisdiction of our Union Council.
Upon arrival, we found Osmany sitting on a cane chair on the front veranda of his Bungalow, surrounded by what looked like mainly ordinary rural folks. There was a quiet and sombre atmosphere. One elderly visitor stood up, went over to him and then started patting Osmany's shoulders as an expression of his commiserations.
I broke the silence by introducing my villager who apprised him of the election results from our area. I then proceeded to say, I had attended one of his previous election campaign meetings held in Sylhet town in 1978 when he was a presidential candidate nominated by the alliance of all opposition parties, but did not see any of his party workers in the forefront in conducting the meeting. I stated, his party could have used that election to promote and strengthen his newly formed party. I suggested to him on the need to create a well trained cadre of dedicated workers by mobilising younger generation who admire him most.
Osmany listened to me very attentively and said, "My party activists and senior leaders regularly meet here in the early evenings. You should come here and join them." But politics was not cup of my tea. He listened to my criticism and the suggestion patiently, despite being regarded as a stubborn leader.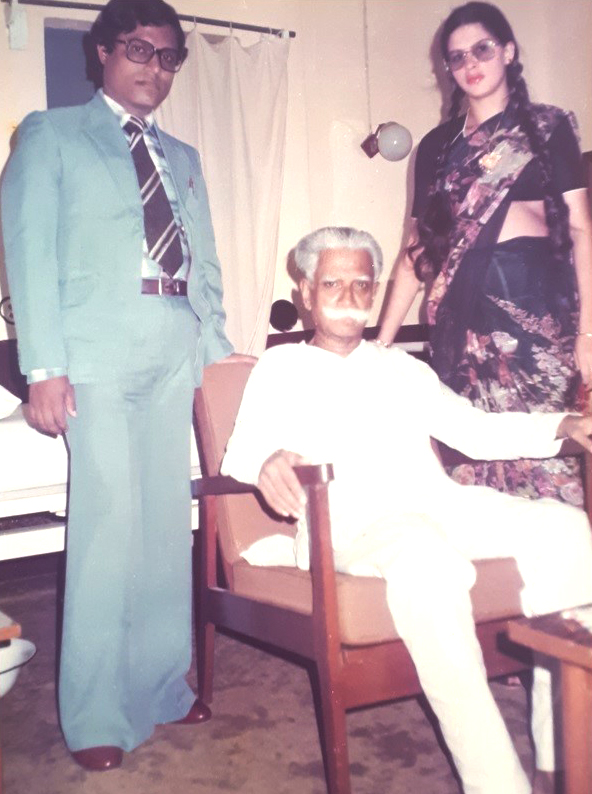 A few months after the 1982 coup d'état when Lt. General H. M. Ershad, the Chief of Staff of the Bangladesh Army took over power ousting the civilian Sattar government, I visited Osmany at his residence in Sylhet, along with my wife. He was very concerned about the demise of the democracy in the country. He said that General Ershad had visited him shortly after seizing power requesting him to join in his government which he straightaway declined.
Osmany never had any greed for power or position. If he wanted, he could have easily installed himself as the head of the state at the time of the political upheavals which the country had gone through several times.
It is no less astonishing that despite his military background, Osmany was totally opposed to military involvement in the running of the government. In fact, he had been most vociferous against any military involvement in sharing power with civilians in running the government. He used to say, "Uniform and politics cannot go together."
In response to Lt General Ershad's statements which he had been making to the press prior to his assumption to power, Osmany issued a comprehensive statement defining the role of defence services, a summary of which was published in daily newspapers at that time. Osmany remained a lifelong champion of the ethics of the multi party parliamentary system of democracy in the country.
He was a courageous and very principled leader. He was the first to raise a voice at the parliamentary committee meeting of Awami League held on 21 January 1975 against the bill for the fourth amendment to the constitution which heralded formation of BAKSAL, a one-party state system. He had deep respect for Bangabandhu and never tolerated any undue criticism of Bangabandhu. But he differed with him on this very fundamental issue. He resigned from the parliament and from the party.
In September 1983 Osmany was admitted at the Combined Military Hospital (CMH) in Dhaka Cantonment as he had been suffering from anaemia for some time. Around that time, (8-10 November) I was on a short trip to Dhaka along with my wife. So, we decided to visit the ailing General in the hospital.
In the morning of 9th November 1983 accompanied by Monjur, a friend residing in Dhaka who had come to see us at our hotel in Green Road, we made a trip to visit Osmany in the hospital. We also took a cameraman with us, whom we had hired from the local Haksa Photo Studio. At the main gate to the cantonment, military police guards would not allow the camera to be taken inside with us. They advised us to leave the camera at the gate, but our cameraman was not happy about leaving his expensive camera there. So they advised the cameraman to wait at the gate.
Osmany was admitted in a fairly specious private room (No. 1) in a single storey tin shed bungalow type building which I believe was a special arrangement to accommodate the ailing General and VIPs. On arrival, we found Osmany at a nearby football ground which was situated on a slightly elevated level on the rear of the building. He was standing on the edge of the ground slightly leaning back on a walking stick, looking up and deeply engaged in conversation with a middle-aged bearded technician who was on the roof of the building fixing his TV aerial. Noticing our presence Osmany ushered us into his room.
He was still undergoing various clinical investigations at the CMH. Although he was physically looking a little fatigued, he appeared to be mentally in good shape. After a short few minutes, I told him with some hesitation about the cameraman waiting at the gate. He asked me which gate but I could not specify, just said the gate near the turning of Mohakhali Road. So, he rang someone in the cantonment who initiated a search instantly, but they could not find the cameraman at that gate or at any other gates.
"Don't take any action against the Havildar, he has done his job very correctly …," Osmany's large moustache started to wiggle and dance as he was talking to someone on the telephone in his usual posh British English accent. Turning his face towards me he said, "Please bear with me, I must save the poor Havildar's job first." At that moment, a high ranking army officer turned up in his room giving him a salute and said, "Sir, do you need a camera, I've brought one for you". Turning his face towards us again, Osmany declined saying, "My relations will be able to come another time with their own camera." It took a good 25 minutes for him to calm the situation as he wanted to be absolutely sure that no action would be taken against the innocent Havildar. This simple example shows he was an exceptionally kind and considerate person to his fellow human beings.
Then Osmany said, "Can't you borrow a camera from a friend or relative and come tomorrow at 1.30 pm?" I confirmed that we would.
Whilst there, I enquired about the well being of one of the senior leaders of his party with whom I had met on a few occasions. Osmany replied that the person concerned was out of Dhaka to attend a wedding of a relative. Then after a short silence he said, "I have received an allegation from England against him of misappropriation of One Lac Taka which was given for printing leaflets for the party. I will ask the NEC (National Executive Committee) to investigate the allegation. If the NEC finds him guilty, I will recommend expelling him from the party."
I wondered why he was discussing with us such a confidential matter of his party for I was not even a member of it. The person in question was a key man, the only remaining party stalwart who had been acting as his party's spoke person at the Janata Bhaban, the party's headquarters in Dhaka. If he is expelled then the very existence of his party would be at stake. However, by discussing this matter with me he was conveying a clear message that he was prepared to recommend tough disciplinary action against any person found guilty regardless of whatever consequence it might bring for his party. He was steadfast on his principles. He was an uncompromising transparent leader, who would never harbour or tolerate any form of corruption or wrong doings within his party.
After a short pause I said to him, "President Ershad has been visiting you in the hospital often. His graceful appearances beside you, the ailing General, are featured in the front pages of the national dailies as well as on Bangladesh Television. This no doubt is boosting the President himself. Why don't you ask him to send you to London for better treatment"?
"My consultants are good, they have also got foreign qualifications", he replied expressing his trust and confidence in them. Then to reinforce my suggestion, I cited the examples of few past cases when ministers were sent abroad for treatment at government expense, and said, "You have done so much for the country; you deserve this most".
After a short silence Osmany said, "The Chairman of my medical board has gone abroad to attend a conference. I will ask him on his return if he thinks it necessary." Again, this reflects his strict compliance of proper rules and procedures rather than taking any advantage by bypassing them by asking the President directly. He was a most humble person, never misused his power or position for his personal gain.
Few days later I was pleased to hear my advice had been taken on board. Osmany would be shortly sent to London for further treatment.
We spent about an hour with Osmany at the CMH that evening. When we came to leave, he stood up to bid us farewell. He asked me what sort of transport we were travelling by. I replied that we had hired a baby taxi. "Don't take Foori (the daughter) out too much and travel by rickshaws on bumpy roads", he advised, pointing at my wife as she was in advance stages of pregnancy with our first child.
Though he was a lifelong bachelor, he was a very caring and affectionate to men, women and children alike. He was socially a very amiable person.
The next morning Monjur came to the hotel accompanied by one of his friends with a camera and a large roll of film. We went out to visit the Botanical Garden at Mirpur as they wanted to take some shots there before we went to CMH. It was already 2pm when we returned to the hotel for quick lunch. Osmany was a stickler for punctuality. He would decline to see anyone if they were late even for a minute, nor could he tolerate to hang around to start a meeting late. Monjur and his friend were hesitating to go as they were in fear of encountering "the raging eyes of the roaring tiger", and the humiliation in case we were turned away as we were already very late. I assured them that he would not humiliate us in presence of my wife.
On our arrival at the CMH we found Osmany strolling on the fly proofed long veranda waiting for us. No sooner had we got off from the baby taxi, he came to the entrance to receive us. "We are so very sorry ….," but before I could finish the sentence, he said, "Come in".
"I asked you to come at 1.30pm which was my time to rest", he said softly, "They (hospital staff) will be back shortly to take me out for a walk". He was very considerate to us, especially to my wife. Monjur's friend quickly took some shots of us with the General in several positions. We thanked him for his patience and courtesy to see us.
On 4th December 1983, I went to Nur Manjil to see Osmany departs for London for treatment. His front room was packed with people who had come to see him off. The Regional Martial Law Administrator, a Colonel in military uniform (from SI&T) was also there to officially accompany him to the airport.
Osmany was sitting on a chair close to the front door, wearing a maroon colour shawl, looking very frail. Despite being advised not to rise from his chair, he kept standing up to greet people, shaking their hands both young and old.
Osmany was being accompanied to the UK by a Bangladeshi expatriate who was also his party leader in the UK, named Abdul Matin. As he went to get into the car to go to the airport, Osmany asked Abdul Matin to get into the car to take his seat first, but biting his tongue out of embarrassment Abdul Matin said, "No Sir, you go in first". "No, you go in first" Osmany insisted. No, you go in sir please" Abdul Matin repeated. We were all bemused at this going, when Osmany insisted, "You are a Murubbi an elder and you should get in first". All of us were astounded to watch Osmany's deep respect for older people.
He was an affectionate man. I remember one occasion when we were visiting him at his house, his two dogs were walking along the rear veranda. He reminded his housekeeper to feed them. He told us the story of his dogs, how they attacked the Pakistani commandos when they raided his residence in Dhaka (his brother's house) on the night of 25/26 March 1971 in their attempt to kill him. He was very fond of his dogs. Even whilst in England receiving treatment, he wrote to his house keeper enquiring about the well-being of his dogs.
He was a pure Bengali and lived very simple life. Yet in his style and manners, he was the embodiment of an English gentleman.
People wonder why Osmany remained a lifelong bachelor. Did he ever fall in love with any woman? I remember, in early seventies people gossiping that Osmany wanted to marry a woman, but no one could give any clue who that mysterious woman was or why he did not marry that woman. Nor anyone wrote anything specifically on this matter.
However I came across a fascinating story about Osmany for not getting married which appears to be the most convincing factor in this regard. The story was originally narrated by one of Osmany's close relatives in 1980 to a non-resident Bangladeshi writer now settled in London:
"A girl from a renowned Muslim family from Dargah Mohalla area of Sylhet town began attending Murari Chand College, Sylhet. But other elite Muslim families in the town could not take this easily; they considered it against the custom of elite Muslim families as well as against religious rule of Purdah. They asked the girl's family to stop her from attending the college, but the girl's family still allowed her. So, the heads of all Muslim elite families of the town gathered in a meeting and resolved to socially boycott the girl's family.
A little later when Osmany's parents began discussing about arranging his marriage, Osmany expressed his intention to marry the girl from this Muslim family. But Osmany's father expressed his inability to endorse the proposal saying that he would not go against the spirit of the decision of a meeting concerning the girl's family which he was part of, as he had presided over that meeting, he however left it for Osmany to decide. But Osmany would never go against his father and marry the girl.
Osmany's father then went to Saudi Arabia to perform Hajj in 1956. On his way to Hajj he met his youngest son Osmany in the GHQ Rawalpindi. Osmany assured his father that he would consider getting married upon his return from Hajj. But unfortunately, his father died in Arafat while performing Hajj. Thus Osmany rather chose to live a bachelor's life. The woman also chose not to marry any other person".
Osmany died of cancer in London at St Bartholomew Hospital on 16 February 1984. He was laid to rest in his native town Sylhet, besides his mother's grave on 20 February 1984 in full state honours.
These are just a few examples which provide a clear insight into the person Osmany. He may have appeared sometimes to some pe­ople to be arrogant, stubborn or heartless. In reality, he was a down to the earth man. He was a most frank and friendly person; whoever met with him once, they became hypnotised by his persona. He was a magnanimous and warm-hearted individual with overflowing forgiveness. He was a fatherly-figure and possessed all traits of a great leader with a broader knowledge, experience and vision. Guided by his conscience, he had a very strong sense of duty and responsibility towards his fellow beings. Whatever he did, he did it for a reason, not for him but for the wellbeing and in the best interest of the country.
There can be no denial in the part he played in serving the nation relentlessly until he drew his last breath. He will remain as a powerful symbol of the Liberation War of Bangladesh, a valiant hero, a great General, a true patriot and a standard bearer of democratic rights in the core of the hearts of the people of Bangladesh. He should be remembered and his lasting legacy should be allowed to flourish and continue to inspire generations to come.